Cohen & Cohen / A PAIR OF EXTREMELY FINE FAMILLE ROSE OCTAGONAL BALUSTER JARS AND COVERS Qianlong period, circa 1740 (2)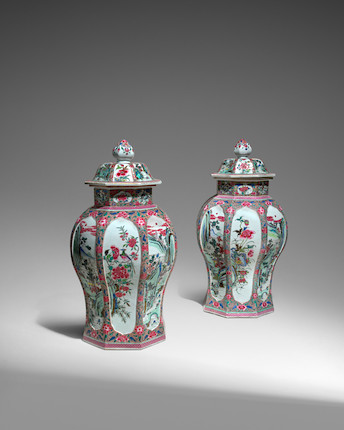 A PAIR OF EXTREMELY FINE FAMILLE ROSE OCTAGONAL BALUSTER JARS AND COVERS
Qianlong period, circa 1740
24 January 2023, 10:00 EST
New York
Ask about this lot
Krystal Liu
Junior Specialist/Cataloguer
Michael Hughes
Vice President and Head of Department
A PAIR OF EXTREMELY FINE FAMILLE ROSE OCTAGONAL BALUSTER JARS AND COVERS
Qianlong period, circa 1740
The two octagonal baluster vases are decorated with attenuated oval panels on the side of the body and bell-shaped panels on the lid, each containing alternate landscape or floral designs, the ground pattern is a whorl or cloud pattern in sepia, overlaid with multiple red peonies with blue enamel leaves, around the neck of the vase are alternating leaf and pomegranate panels also containing landscape or floral patterns.
23 1/2in (59cm) high (2).
Footnotes
乾隆時期 約1740年 粉彩八方模印開光山水花鳥紋帶蓋將軍瓶一對

Published
Cohen & Cohen, Take Two!, Antwerp, 2017, pp. 64-65, no. 26

出版:
倫敦Cohen & Cohen古董行,《Take Two!》,安特衛普,2017年,頁64-65,圖版編號26

Magnificent large, covered jars of this kind have no place in the regular canon of Chinese porcelain production. They mark the highest point of fine-quality export taste wares made at Jingdezhen at the request of the foreign 'supercargo' traders jostling each other along the wide promenades and fenced areas in front of the Western warehouse 'Hongs'on the Canton waterfront, judiciously barred from setting-up within the walled Chinese city.

The recessed panels, not at all a natural potter's shape, suggest that European designer's concept for these porcelain jars lay in large European vases of some kind, possibly made in marble or another hardstone as garden ornamentation. There is really nothing in Western ceramics at that date which represented a convincing prototype for them, except something majestic and ornamental. If the original model is a silver, gold or even bronze vessel, the source of something so large has not yet been satisfactorily identified.

Apparently manufactured specifically for the Export market, jars and vases such as these are archetypal examples of the grandest and largest pieces of Chinese porcelain which amazed, engrossed and enthralled Westerners. European buyers were familiar for the most part only with the hugely expensive display pieces made at a few 'Royal vanity' German factories like Meissen, or the tin-glazed earthenware pottery (not thin translucent Chinese) vessels made at Delft in Holland, or at an earlier date in the Italian majolica kilns. Chinese 'pots' were radically more interesting for newly rich communities hungry to impress!